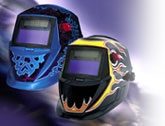 Why Welding Helmets?
Whether you are the home hobbyist or the professional welder, the importance of protecting yourself with the use of a welding helmet is just the same. Welding helmets, a mandatory safety precaution, protect your eyes from the intense light produced by an arc and shield your head from sparks. To guarantee your safety, don't be caught welding without one!
View XLix Series | XLi Series | XL Series | Fixed Shade
Back to Top

See your local Miller distributor for ordering information.