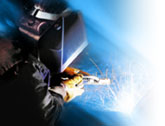 B2B Extranet
Miller Electric provides access to a B2B extranet website for its Authorized Distributors, Service Stations and Equipment Rental Centers. This secure site enables Miller business partners to gain real-time access to key product and account transaction information. Our goal: improve efficiency and reduce costs within the supply chain through the use of internet technology.
Need Access? Here's what you will need:
PC with internet connection, Preferably 56K connection or greater.
Version 4.0 or above browser (Microsoft Internet Explorer or Netscape Navigator capable of 128-bit SSL encrypted sessions.)
An internet E-mail account with mail client software such as Outlook, Groupwise, etc..