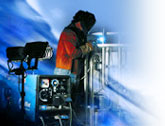 Resources for Purchase
Why a welder/generator?
Like a "regular" generator, a welding generator provides 120 VAC and 220 VAC auxiliary power. Typical output capabilities of these products also match up, as a welding generator suitable for home use produces a comparable 3,500 to 10,000 watts. The comparison stops there, though, as a welding generator lets the owner weld mild and stainless steel (and sometimes aluminum) in sections up to 1/2 in. thick or more. Surprisingly, both products cost about the same.